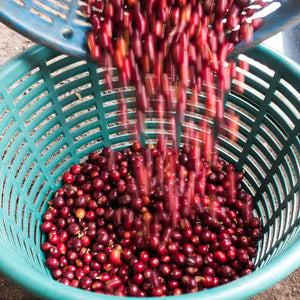 Ethiopia Duromina by Kata Muguda Co-operative Union

Tastes: Tea, hops, herbal
Variety: Local Landraces
Process: Washed and dried on raised beds
Altitude: 1,900-2,100
Region: Jimma
Importer: Red Fox Coffee Merchants

$1 from every pound of this coffee sold is donated to support clean water through the Roasters For Wells program. See our Over & Above page for more information.
Duromina operates under the leadership of the Kata Muduga cooperative union, whose continued investment in the coops that it leads makes possible some of the most delicious and coveted coffees in the world.

Thanks to Technoserve's initial investment and the stellar leadership within Duromina and Kata Muduga, Duromina's processing is immaculate, leading to an incredible showcase of the coffee's natural potential year after year for a ridiculously long time off harvest. The secret? After Penagos processing equipment mechanically removes most of the fruit and mucilage from the seeds, they soak overnight in fiberglass tanks, allowing any remaining sugars to be fully removed from their surface so that the coffees are perfectly clean by the time they hit the drying beds for the eight-plus days they'll need to dry.

Check out all of the the current JJ Bean single origin coffees and subscriptions.
Want to be notified about every new coffee release? Sign up for our newsletter at the bottom of the page.