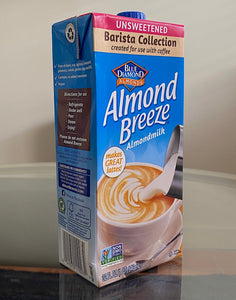 Suitable for vegans. Free from dairy and soy. This delicious unsweetened Almond Breeze Barista Blend, created especially for coffee lovers, complements the taste of coffee and produces a rich, creamy froth to sit atop lattes, cappuccinos, and flat whites.  
 *Due to the weight of this product, a shipping fee will be applied. Refunds or returns are not accepted on food/drink products.

Ingredients:
Water, Almonds (2.5%), Vegetable Oil (Almond), Corn Maltodextrin, Acidity Regulator, (Potassium Citrate, Dipotassium Phosphate), Emulsifier (Sunflower Lecithin), Stabiliser (Carrageenan, Guar Gum), Sea Salt, Flavouring.