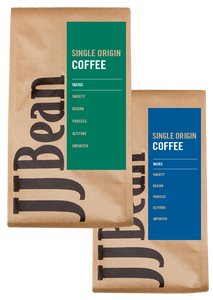 For the adventurous drinker who loves variety, with rotating single origin coffees delivered on a recurring schedule. Featuring new seasonal single origin coffees specially selected by JJ Bean's Coffee Quality team. (Yep, this is the coffee subscription we would get if we got one.)

How it works: Pick this product, select your subscription frequency, and you'll receive a 340g (12oz) bag of freshly roasted coffee on that schedule. If you add more than one single origin subscription to your cart, we'll ship different coffees from our current offerings to ensure you get to experience as many flavours as possible. 
We've automatically calculated 10% savings based on our average single origin coffee, so the price you see is the price you pay each renewal. Set it up and slurp choice coffee every day!
Check out all of the the current JJ Bean single origin coffees and subscriptions.
Want to be notified about every new coffee release? Sign up for our newsletter at the bottom of the page.